There was movement in the press box for the word had got around
that Moffat's GT Ford had got away.
It was leading the 500 which was worth at least ten thou
and Jane-o's car had packed in for the day.
All the tried and noted drivers from the racetracks near and far
had gathered at the mountain overnight
for the drivers love hard racing where the falling boulders are
and the race car snuffs the battle with delight.

There was Harry Firth, who made his pile when Gricey was a pup,
the old man with his hair as white as snow
but few could drive beside him when his blood was fairly up,
he could go wherever touring car could go.
And Bondy, fresh from Amaroo, came down to lend a hand -
no better driver ever held a wheel
for never car could beat him while the horsepower would stand;
he had learned to drive while wagging it from school.

And one was there, a stripling with a small and weedy car,
it was something like a Falcon undersized
with a touch of old Monaro, at least three parts GTR,
and such as are by Bathurst racers prized.
It was hard, and tough, and wiry, just the sort that won't say die,
there was beauty in its sleek and pleasing lines,
and it bore the badge of Marlboro in its red and black and white
and collected heaps and heaps of speeding fines.

But still, so slight and weedy one would doubt its power to stay
and the old man said "That car will never do
for a long and tiring sprint race - lad, you'd better stay away,
this mountain's much too rough for such as you."
So he waited, sad and wistful; only Bondy stood his friend,
"I think we ought to let him come," he said,
"I warrant he'll be with us when he's wanted at the end
for both his car and he are mountain-bred."

"He hails from Diamond Valley, up near Hurstbridge countryside
where the roads are twice as steep and twice as rough
and a Falcon's tyres will puncture from the flintstones on the side;
the man that holds his own is good enough.
And the Diamond Valley drivers on the mountains make their homes
where the river runs those giant hills between -
I have seen full many drivers since I first began to roam
but nowhere yet such drivers have I seen."

When they reached the mountain summit even Bondy took a pull,
it might well make the boldest hold their breath;
the track veered right, then left again, and Conrod Straight was full
of broken Fords, and any slip was death.
But the Man From Diamond Valley let his Holden have its head
and he flattened his right foot down to the floor
and raced Moffat down the mountain like a river down its bed;
the Holden and the Ford were door-to-door.

He sent cement dust flying but the Bridgestones held their grip,
he avoided falling boulders in his stride
and the Man From Diamond Valley never once let the car slip
while Moffat did a wild and smoky slide.
Down Conrod Straight to Murray's on the rough and broken ground,
down the hillside at a racing pace he went
and he never touched the brakes until he landed safe and sound
at the bottom of that terrible descent.

He was right among the V8s as they climbed the farther hill
and the watchers on the mountain, standing mute,
saw him really sink the boot in; he was right among them still
as he raced up Mountain Straight in hot pursuit.
Then they lost him for a moment where two mountain gullies meet
at BP Corner, but a final glimpse reveals
on a dim and distant hillside, Moffat's Falcon racing still
and the Man From Diamond Valley at his heels.

And he raced it single-handed till its sides were black with smoke,
he followed like a bloodhound on its track
till it halted, cowed and beaten; then he turned its head for home
and alone and unassisted brought it back.
But his hardy GTR, it could hardly raise first gear,
bare metal nose to bootlid from the Ford
but his pluck was still undaunted and his courage that to fear;
the crowd stood on their eskies to applaud.

And down by Panorama where the pine-clad ridges raise
their torn and rugged battlements on high
where the air is thick and heavy with an all-year oil-smoke haze
at midnight, in the cold and frosty sky,
and where, around near Amaroo, the reed beds sweep and sway
to the breezes, and the track aint very wide
The Man From Diamond Valley is a household word today
and racers tell the story of his drive.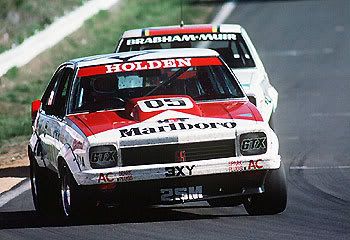 ..and they'll continue to tell the story of his drives.