Sat down last night to update my journal and promptly fell asleep over the keyboard. When I awoke, stiff-necked and sore at 11pm, I switched off and dragged myself into bed. Unusual for me on a weekend, yes. The reason? Yesterday was the Birman show, which is the biggest one of the year for me. We had exhibitors from as far away as Tasmania and the most wonderful array of Birmans you could hope to see. I stewarded with visiting USA judge Darryl Newkirk which was a lot of fun; his assignment comprised the entire show so I got to handle every single exhibit. By the time we finished I was absolutely exhausted.
My "Smuggle You Home in My Handbag" choice yesterday went to an exhibit from Canberra, Bindura Embers, an absolute knock-out of a seal tortie girl who was every bit as solid as a boy. She was also Darryl's pick as Best Cat. I'd have had her in a flash.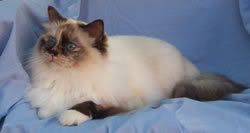 What a pretty girl she is! This photo from Carol's webpage.
Runner-up to Smuggle-Home was a little Devon Rex kitten, only just of legal age. As I placed him on the judging bench, Darryl asked him "Does your mummy know where you are?". He just didn't seem big enough to be out by himself! What a little cutie he was.
I was way too tired to head back for the after-show dinner, making do with dip and crackers as I was too tired and footsore to cook, too.