There I was last week waxing lyrical about the joys of being eleven floors up in a thunderstorm. No such joy today; in fact today's effort was downright frightening. Brisbane got smashed by a "super cell" created when two storm cells met up. At 3.30pm the sky was cloudless, although the BOM radar showed storms moving in from the south and west; by 4.40pm it was as dark as night outside. And then the hail came down, crashing into the window next to me with so much force I thought for sure I would end up with a lap full of broken glass at any second. The window was shuddering under the impacts, the hail was that large.
When I left work I had to walk with care as the footpath was covered in leaves stripped from the trees. Buses were running incredibly late, due to the roads in and out of the city being in gridlock, but at least they were running - the trains were stopped completely with the tracks totally flooded. As it was, it was 7.30pm before I made it home tonight.
This was in front of my work building, about 40 minutes after the storm had passed: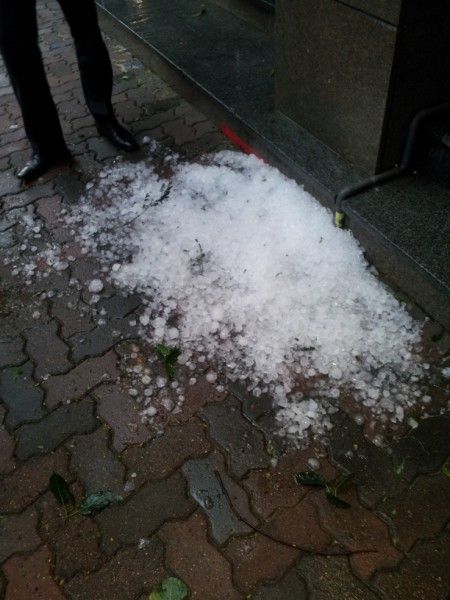 This is what it was like just outside of the city (a friend lives here and reported that eight of his house windows were smashed!)
And this vid - it's a bit long but the first three minutes are riveting. Boundary St is an inner city street, not too far from where I work. (some bad language)
By far the biggest, most damaging storm I've ever seen. I can't imagine what it would be like living through a cyclone. And I'm so glad my car was safely at home.