Just got back from Sydney, after spending a week with my sister and her family. My niece turned 18 on Saturday and I travelled down to attend her birthday party. What a great time I had - didn't want to come home! Well... I did, really, as I missed the cats, but I didn't want to leave my sister either.

It was actually cheaper to fly down than to drive. The budget airlines aren't that bad for a short hop either, as long as you don't expect free food - I'd rather take a chocolate bar along with me than pay an additional $100 each way. If it keeps the fare down, I'm all for it.

One of the things we did during the week was take a drive past a house where we lived for a short while in the mid-70s. The house itself hasn't changed, but there's a new fence (wouldn't be surprised if it was electrified) and the decorations were just slightly over the top:-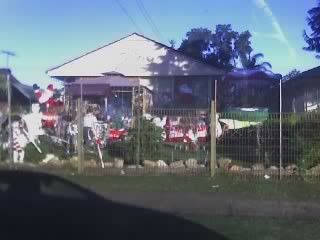 Poor Santa, he'll need to effect The Great Escape on Christmas Eve. (not a good photo; I used my mobile phone to grab it).

Anyway. Got to watch my nephew play indoor soccer; bought my niece her first legal drink, and watched her set off for her first day at work today. She has turned into such a beautiful young lady! I'll have photos soon to post here, I hope. As soon as Sarah remembers to send them to her poor old aunt.