So, we're all familiar with Crocs, right? Those hideously fugly plastic sandals that look as though you have a non-slip bathmat strapped to your feet?
Now Avon sells them too:-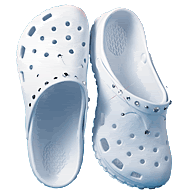 Lightweight with cutout designs on top for ventilation. Nubs on footbed for added comfort and on sole for traction. Removable rhinestone-embellished strap swivels from back to front.

I'm really having trouble getting past the rhinestone-embellished strap part. Kinda like sticking a tutu on a dead dog, really.