From hell's heart, I stab at thee. For hate's sake, I spit my last breath at thee.

Ricardo Montalban has passed away, aged 88. His most memorable role was as Khan Noonian Singh, the mad genetically-engineered superman who took on Kirk and the Enterprise on two occasions. Firstly in TOS episode Space Seed, and then in Star Trek II: The Wrath of Khan, in which he very nearly won. His final scene where he lay dying on the shattered bridge of the Reliant , but still spitting out his hate at Kirk, is an absolute classic. Khan could so easily have been a two-dimensional cutout but Montalban brought the character to chillingly convincing life.
RIP, Mr Montalban.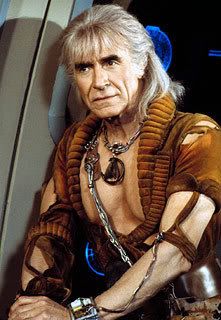 quote above originally from "Moby Dick", but also Khan's last words as he died.