Our Top Gun awards are held quarterly, and recognise the best performers in the state during that quarter. All the winners are invited to a full service luncheon in the boardroom, all very elegant, and presented with a framed certificate in recognition of their work during the previous three months.
Yesterday's awards were special as they marked the half-way point in our financial year, and the winners were hand-picked by our state manager.


The awards were given to the top three performers in each category; branch managers, lending managers, lending officers (like me!), customer service specialists and customer service officers.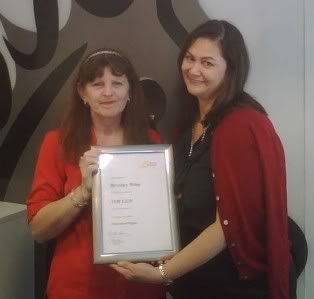 Me on the left, trying not to smile too much and looking instead like I've had way too much to drink! Well they will keep on filling our wine glasses, it's very easy to lose track of consumption. State Manager Rhyll Gardiner on the right.

I was really, really pleased with this. Even if I don't make it into the top three at the end of the year, at least I know I made it this far.