Much random stuff of very little import.

Bathroom resurfacers have been and gone, leaving a transformed room in their wake. I'm really impressed with the care they took - drop cloths down on my timber floors so they didn't track mess throughout etc, and they cleaned up after themselves beautifully. Now I need to get the plumber back to install all my new taps.

Work has been that quiet lately, verging on dead. I have my shiny new office and no business written to justify it which is a bit scary! I'll make target this quarter - only $500k short and five weeks still to go - and I've made my cross-sales, but I should be doing much more than this. I did warn new boss that this is traditionally the quietest quarter for my branch, I hope he took me seriously.

Meanwhile, I'm seriously considering signing up for a Diploma of Financial Planning course. Our F/P has offered to mentor me which would be a wonderful support. It's a four-subject course done online, with three years to complete, and at the end of it you're a fully-qualified financial planner. I reckon two years would pull it up, if I was serious about getting through.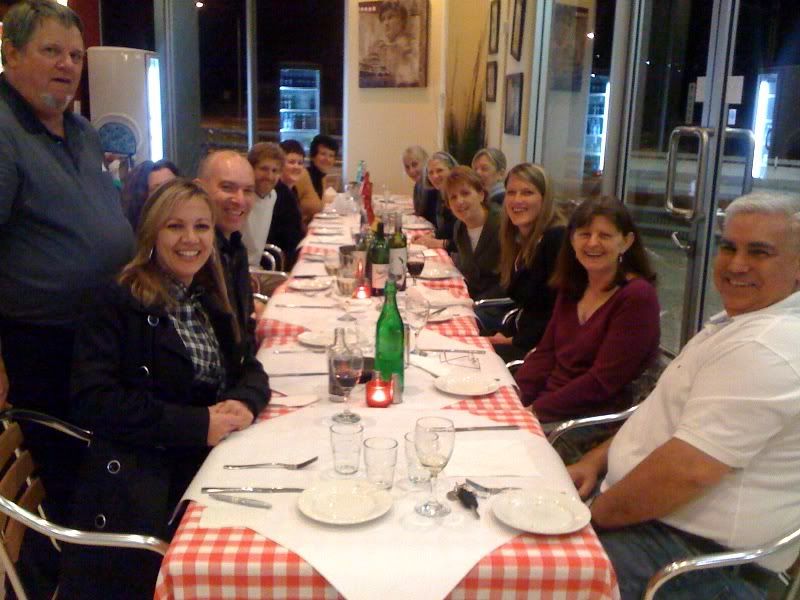 Taken at the farewell for our local credit support team. I'm wearing the aubergine-coloured jumper, and opposite me is my friend who had previously worked at our branch but quit in disgust 12 months ago (as per journal entries at that time, it's old news now!) - he's still mates with us all and didn't want to miss the farewell. It was held at Coomera, in the Gold Coast hinterland, and David & I travelled down together.