There was a beautiful parrot in my bird feeder this morning; to the best of my memory it looked like this:-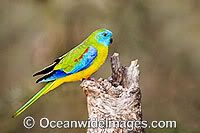 A female turquoise parrot.

Quite a surprise, as usually I only see crested pigeons taking advantage of the free food. There are galahs and white cockatoos living in the park behind me; perhaps the parrot is also resident there.