Talking today to a guy who manages the Brisbane markets at Rocklea, the major sales and distribution point for fresh fruit and vegetables in the city. The job facing him and his team is absolutely huge; I quote "I'm staring at produce stocked up to the roof; first we have to sort out what's salvageable and what's been damaged, then we need to clean up enough that trucks can get back in here - once the roads are open again, that is!" He went on to say that he was short of workers; just organising a roster was a nightmare as half of his workforce either couldn't get in or had flood damage of their own that was taking up all of their attention.

The result?
I ducked into Coles to pick up some apples for breakfast, but this is what met me: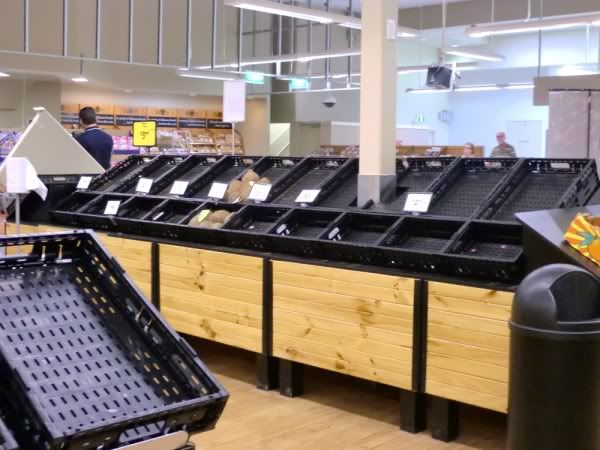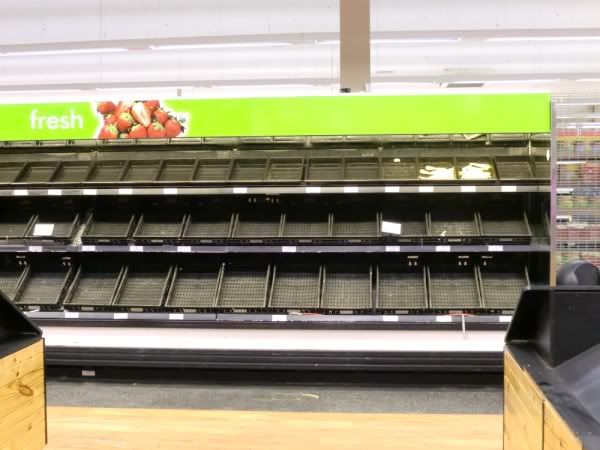 Towards the end of the row there was some fresh produce available; celery, mainly, plus some coconuts and pineapples.

The supermarket closer to home was slightly better-off; I could get some oranges, bananas and a lettuce and avocado, but still no apples. Everything else so far is in good supply, it's mainly the fresh stuff that's scarce.

Imagine living somewhere that you can't just walk into a supermarket and pick up fresh fruit and veggies! Really makes me grateful, once again, to be born in a relatively affluent country. The shortages I'm experiencing at the moment are temporary.