Allan Moffat, advertising the new Ford 335 Boss GT. To steal the catchphrase from Ford's opposition - I just want one!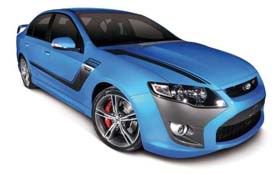 Still raining, both here and in Adelaide where the second leg of the Clipsal 500 is about to start (or at least the telecast is about to start here!) Rain will make for an interesting race.

I actually sat and watched the Touring Car Masters race earlier; what a fantastic category! I'll have to see them live one day.