It's been an interesting few days. I had Friday off work as my new solar power system was being installed. It's all in place now but hasn't been connected as I need a meter box upgrade. Great. Another $1000 approximately, on top of the cost of the system.
Also on Friday the gas heater repairman came out for a second try at repairing my heater. Last time I had him out it cost over $100 just to diagnose the problem but he didn't have the required part with him. This time he had the right part, but then discovered that the switch itself is faulty as well. Ho hum we can see where this is headed at $25 per fifteen minutes, can't we?

Saturday was a lot better - the annual Birman show in Brisbane! The one cat show I'll never miss. I entered Chicken, in her first show since she was desexed last year. She didn't do too badly, taking a fourth in one ring, two sixth places (including the specialty breed ring) and a ninth. I was happy with that.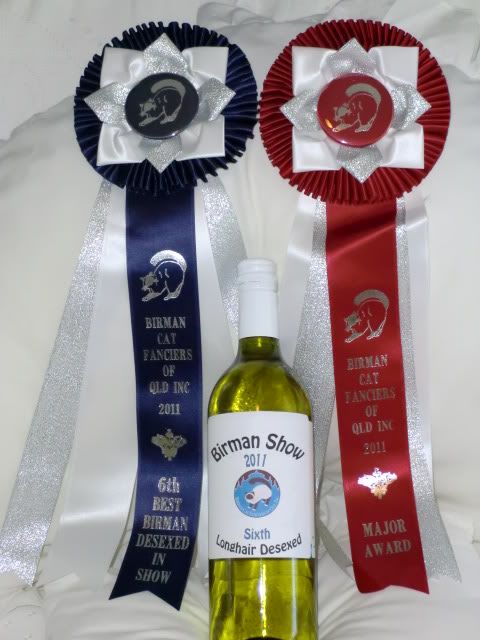 Chicken's loot for her two sixth places and her ninth place. Her fourth place prize was a bag of litter.

Yesterday was Mother's Day, in which I pottered around here all morning then met son at the shops. We spent a glorious afternoon just looking at stuff, before finishing the day at a teppanyaki bar. Good fun!

Back to work today, not so good fun after having Friday off. Fortytwo emails. I thought that was supposed to be the meaning of life, not a penalty.

Saw something on the way home, though, that was a bit out of the ordinary. Bus pulling into a bus stop and misjudging his entry, managed to wipe off the front of a F100 truck parked behind the bus stop.

Cold here tonight. Well of course, because my heater isn't working.