They can be a nuisance if they set up housekeeping in your roof cavity, and in some places (eg NZ) they're actually a noxious pest - but I have a fondness for possums. This is what I saw in my weeping hibiscus earlier tonight:






The rustling in the trees made me look up, and I could just make out the mother with baby on her back. Bubby's eyes really show up here: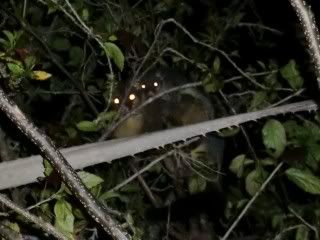 I was able to get a bit closer, but still couldn't get a good shot of the bub.