Ganked from
anonpussynamer
Show all the houses where you've ever lived, using only images from Google Streetview.


1. Pine Road Fairfield.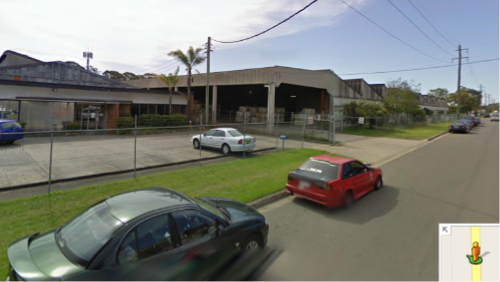 Yes, it's a factory. But there used to be a large brick house behind, where my family lived. My earliest memories are of this house - of picnics held in the hallway which was large enough to host a ball, of the fireplaces and plumbed-in washbasins in the bedrooms. Moved out after my grandmother died when I was four, and we moved in with my grandfather to look after him.

2. Broad Street Cabramatta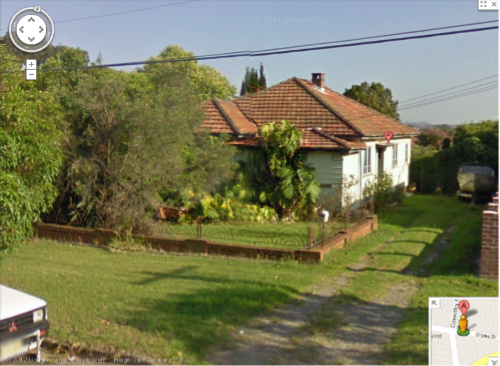 My grandparents built this house after the second world war, piece by piece as building materials were scarce. They did just about all of it themselves, too, as tradesmen were also in high demand. The only thing that hasn't changed in all that time is the fence, with the brickwork and the wrought iron being exactly the same as it was when I lived there in the early/mid sixties.

We had a great cubby-house in the backyard where my sister and I spent a lot of time. Chalk circles drawn on the concrete floor turned it into a transporter platform!

3. McKibbin Street Canley Heights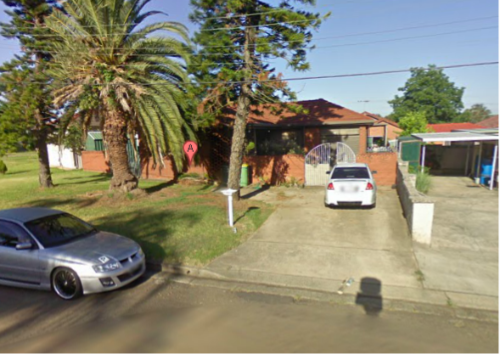 We moved here when I was eight, after my grandfather died. This house has a lot of memories for me; my best and strongest friendships were forged here during sleepovers and playdates. I was living here while going through my teenage rebellious period, and this place was the "home" that I was homesick for when I was away at boarding school.

4. Keesing Crescent Blackett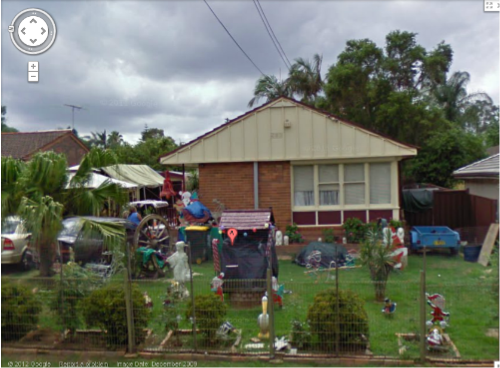 Someone has an interesting idea of garden decoration. When my father's business went belly-up we sold McKibbin St and moved here, to the outer fringe of Sydney. I spent very little time here, having just left school. It wasn't a pleasant house and was a worse neighbourhood.

5. Lemon Grove Road Penrith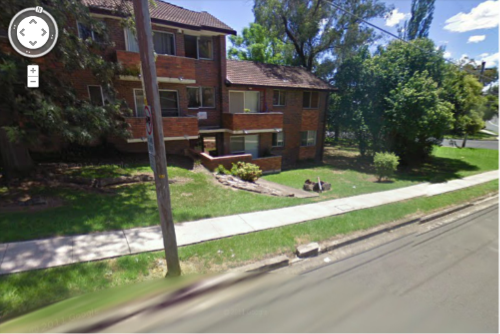 Finally moved out of home and into a flat of my own. The lack of laundry area couldn't dampen my enthusiasm for independent living, it only meant I visited my partner's family more often than I would have chosen so I could use the washing machine.

6. Eastlea Avenue Springwood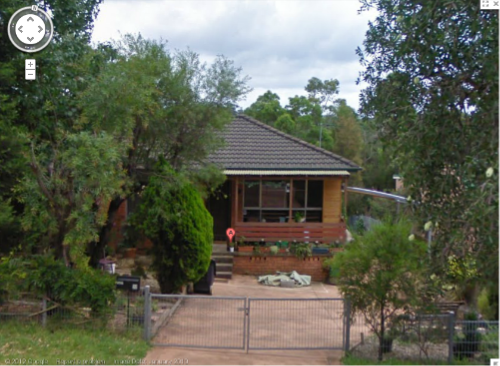 Finally our own home! In the Blue Mountains in NSW. A beautiful spot, but could get a bit scary during bushfire season, as the house backed onto a gully. Loved this house though. We bought it while it was still under construction and eagerly watched it take shape.

7. Curtis Street Oberon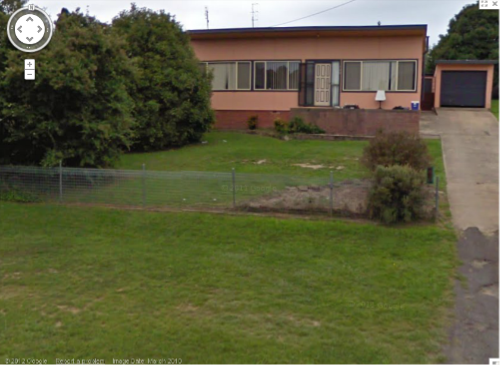 My partner's work took us out of the 'burbs and into the country village of Oberon, on the western slopes of the Blue Mountains. Effing freezing cold hole, I hated the house, hated the town, hated everything about it. We stayed there for 17 months encompassing two winters and I swore I would not spend another winter there. Snow was a novelty at first, and tobogganing down the driveway was fun, but the unremitting cold just did me in.

8. Lions Drive Mudgee - I can't get a single image of this area. We rented a little farmhouse there while waiting for the sale of Oberon and the purchase of our next house to go through. The house was on 30 acres of cow paddock; probably nothing has changed.

9. Mudgee Street Rylstone




The front door, which no-one used, faced onto Mellon Street.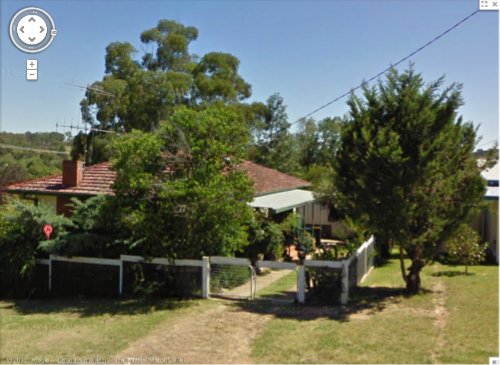 Visitors all used the back door which opened up onto the driveway at the rear of the house. Living here was the happiest time. Little country town with a population of only 600 people, the sort of place where you never had to lock your house up and could leave your car keys in the ignition, safe in the knowledge that your car would still be there in the morning.

10. Waterfall Way Dorrigo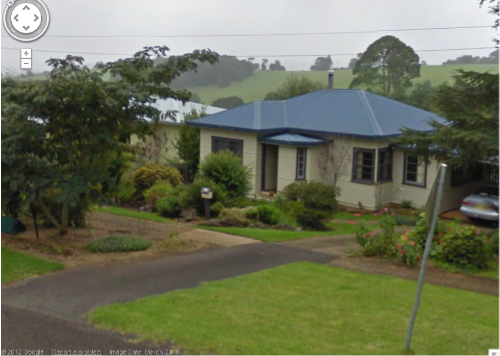 See how the mist clings to the hills in the background? Not as cold as Oberon, but being right on the edge of a mountain it seemed to be perpetually blanketed in mist and low cloud. In the only summer I spent there we had eleven days on which it didn't rain, and six of those were sunny.

11. Pitt Street Coffs Harbour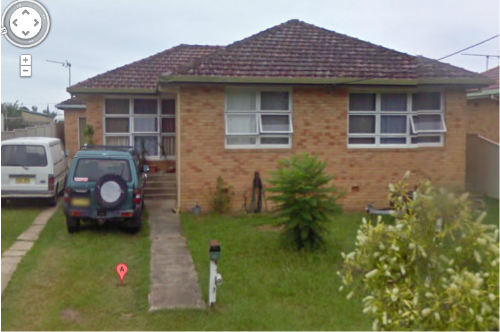 We rented this house from the company where my partner worked, once again while waiting for the sale of our previous house to go through so that we could purchase another. Only spent three / four months here, it was never really home.

12. Sand Street Coffs Harbour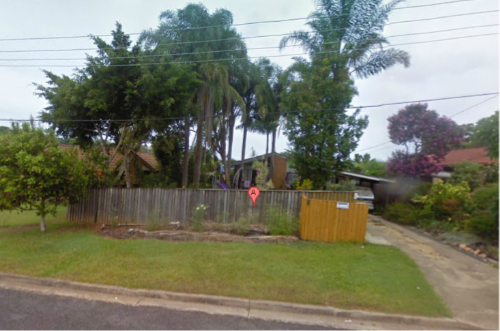 Hard to get a proper look at this place from google maps so I've provided a couple of different angles. The house was set well back on the block, with pool in the front yard. I really loved this house too. A lot of good times here.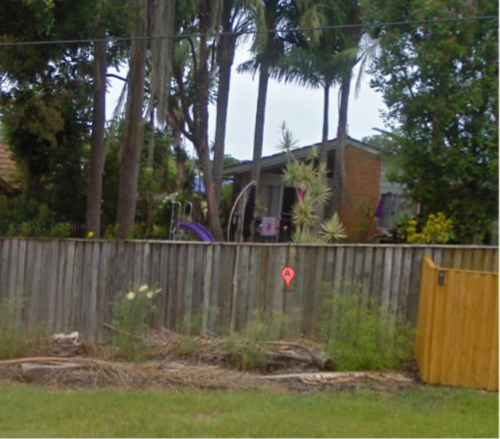 One theme running through all these photos is how unkempt all the gardens look. To give him his due, my (ex) partner was a mad keen gardener and spent a lot of time and trouble keeping the gardens looking lovely. Now they all appear to have been let go.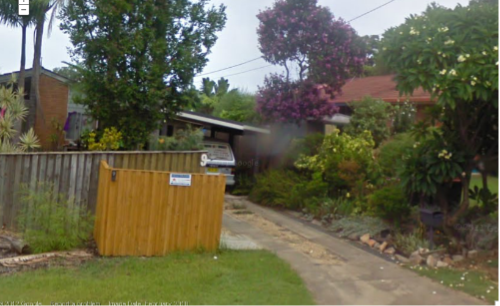 13. Where I live now!




This place is special to me as it's the only one I actually chose for myself. Nearly eight years now and I can see myself staying here for quite some time yet; the only thing that might force me out eventually is the combination of a developing bad hip and thirteen steps up to the house. I don't want to think about moving though.