Yesterday for the most part was a fairly typical working day; only the after-hours stuff was different.

5.20am Woke to the clock radio. Opened my eyes to an unnerving sight; Princess Fatty Kitten less than two inches away and staring at me. Once she saw my eyes were open she moved in for snuggles. I managed to stay in bed long enough to listen to the 5.30 news then dragged myself out to the kitchen for the first cup of coffee of the day.



6.15am Headed downstairs to clean litter trays and feed the downstairs cats. Finished by 6.30, when I logged on here and set up last night's post before getting ready for work.

7.23am On the bus into the city. Daydreaming.

8.25am Booted up my computer and looked forward to 35 whole uninterrupted minutes of work before our team meeting.
8.26am Co-worker came in and dumped himself into the chair opposite, for a chat. For 30 minutes.

9.00am Team meeting - discussing the upcoming changes to the branch. Still not happy about it. However, it was pointed out to me recently that the branch is not being redesigned specifically to piss me off, so I sat there and shut up.

9.30am Lenders Teleconference. Made up some spiel about the ways I would increase my cover (approved-not-yet-settled loans). Discussions around changing our targets (and by extension, affecting our bonus payments) to reflect location and demographics of branch, in relation to average loan size and experience of lender. In which case I'm screwed, and can expect a significant decrease to my income.

10.00am Started in the emails and returning phone calls. Ran a couple of insurance quotes, prepared a scenario around a loan split. Finally got through it all and opened a file to begin my "real" work at 10.45am; fortyfive whole minutes before my first appointment.

10.47am Walk-in wanting to discuss our interest rates. She's thinking of refinancing a loan currently held with an internet lending company and wanted me to match or better their interest rate. One piddly little loan and she's looking for a discretion of 1.14% off the SVR. I have to go down on bended knee to get that much for someone with $2m worth of lending. She thought she deserved this level of discount because she also has five loans with the NAB. She's not prepared to bring us that business though.

11.02am Her mobile rang - and she answered it. And she talked for five minutes - I was timing her. I was also furious. Ended up pushing my chair back, crossing my legs, folding my arms across my chest and staring at her until she hung up. Does she expect me to try for a discount for her when she treats me so rudely? I don't want her business.

11.15am Rude lady left. Returned the phone call I missed while dealing with her. Got a bit more done on open file.

11.30am Appointment, took an application. Yay! There's something for the day at least.

1.00pm Customers gone, returned a couple of phone calls, ran a quick borrowing power over the phone for a long-term customer; he recently settled a loan through my old branch and wasn't happy with the experience at all, so has looked me up and hunted me down followed me into the city now.

1.30pm Walk-in, existing customer looking for an investment loan. Quick chat, ran his figures, all looks good. He took the application home for his partner to sign.

2.15pm Lunch! I went looking for pyjamas. How hard is it to find nice pyjamas under $100? I won't pay that much just for sleepwear. Contemplating buying a couple of roomy men's t-shirts.

3.15pm Back at the desk, get a bit more done before next appointment.

3.30pm Mate you really need to have a job, right? And savings would be good too.
At least that freed-up the rest of the afternoon and I actually got some proper work done.

None of this includes the constant interruptions from co-workers with questions, or just coming in for a chat, or wanting help. Or customers who "saw your door open, and just wondered if you'd mind looking at this...."

5.30pm Confirmation of a superfund home loan approval that was due last Friday. Bit late to let the solicitor know that it's through; I hope the contract doesn't crash as a result. Let the customer know, anyway.

5.45pm Packed up my desk, then along with three other co-workers headed out to Customs House for our 75 Years of St.George celebrations. There were old ads :
YouTube embedding refuses to co-operate; here, have a link

and good food: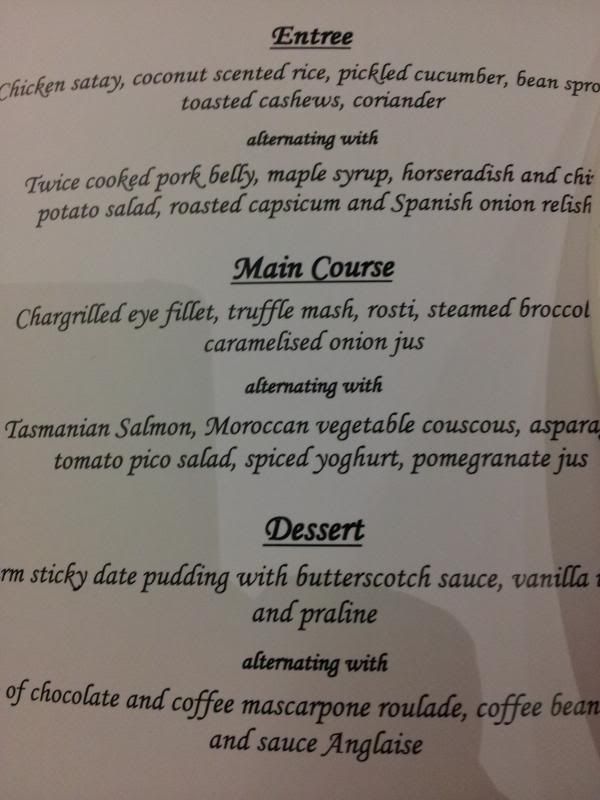 and lots of fun. Oh, and did I mention the magically-refilled champagne? Either that or it was a magical bottomless glass.

9.55pm Left Customs House and headed back to co-worker's car; he kindly drove me all the way home, to save me catching the bus at that time of night. Home by 10.45pm, into the shower, fed the cats and then to bed.