Last night was fun - a meal with friends at a local bowling club followed by a rewatch of The Hobbit in 3D, getting ready for the release of the next movie later this month.

Martin Freeman has such a mobile face, and at the same time he's kind-of nondescript. I had seen him in movies and tv a lot but it wasn't until Sherlock that I could actually put a name to the face. Perhaps if I'd seen The Office when it was first released the name would have stuck; as it was, I was surprised to find out just how many movies I'd seen him in without ever recognising him again.

Only fitting then that today's advent piccies should be of the very versatile, talented Martin Freeman.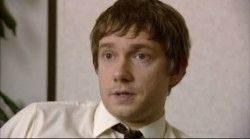 As Tim, in The Office (which I loved, once I did get around to watching it).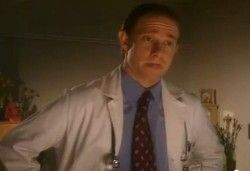 A cameo role as the doctor in the first episode of Black Books.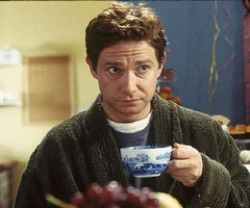 As Arthur Dent in The Hitchhikers Guide to the Galaxy (see the china pattern on his teacup? Adams' English Scenic, which comes in a number of colours. Ray Doyle had a pink teapot in this pattern in his flat, in the Pros episode titled Involvement.) (yes, I love trivia, thanks for noticing).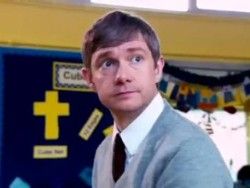 As the teacher in Nativity! which I should really dig out to watch again.



John Watson, surely the most patient and tolerant of men, in Sherlock. His tolerance is about to be stretched to the limit, I think.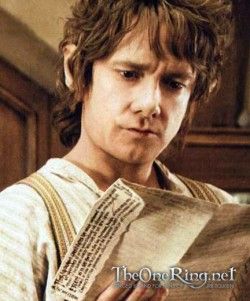 Arguably his most famous role, as Bilbo Baggins in .



From The World's End which was a lot of fun!

And finally this, which I couldn't leave out -