Queenstown is the action-adventure capital of New Zealand. Anything you could imagine doing, you can find here; zorbing, white water rafting, abseiling, rock climbing, paragliding, bungee jumping, they're all available in Queenstown.
I'm not *quite* as adventurous as some, but I still had a blast.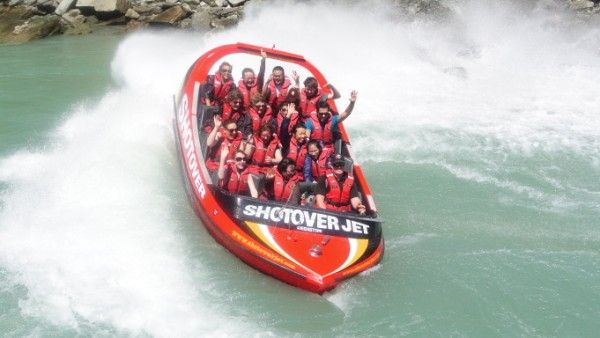 Third row back, on the far left, hair a tangled mess and having the time of my life.
If you've never experienced the Shotover Jet Boat, here's a taste of it. Keep in mind that you're doing over 100km per hour for a good deal of the trip, shooting through narrow canyons within inches of the walls on either side, and spinning out in wild 360s whenever space allowed.


After 25 minutes of Oh-my-God-we-are-about-to-die-a-horrible-death-but-what-a-way-to-go, I have to admit that my legs were weak when I got out of the boat. But I wanted to go again!
Actually bought the t-shirt, I can't believe I did something so cliche but I had to have it, it says "Keep calm and HOLD ON!"