Footsore, weary and more than a bit sunburnt - today was the 25th Abbey Medieval Festival and I enjoyed it no end! Camel rides, jousting, sword fights, stilt walkers and mead, and much much more. The only flaw was my camera dying - not really sure what happened there but it wouldn't turn on, so I was left with only my phone for taking photos and that was less than ideal. Of course as soon as I got home and tried my camera again it worked with no problems whatsoever.

This year I bought tickets to the joust as well, and it was fantastic! Three rounds of three contests each, so it didn't go too long. I'd have liked to have seen more, but can't complain as the joust tickets were only $4 each and I certainly got my money's worth. Interestingly, of the three competitors, two of them were women - one from New Zealand and one from Canada. And the Canadian woman won the contests that I saw, although there's still tomorrow to go.

Anyway, as a result of camera dying I didn't get too many useful photos. My pick of the bunch below the cut.



The three joust contestants must have been baking in their armour; the day had warmed up to 22 degrees after recording the coldest overnight temperatures in 113 years (trufax! It was 2.6 degrees overnight in Brisbane!)
This was the lady from New Zealand: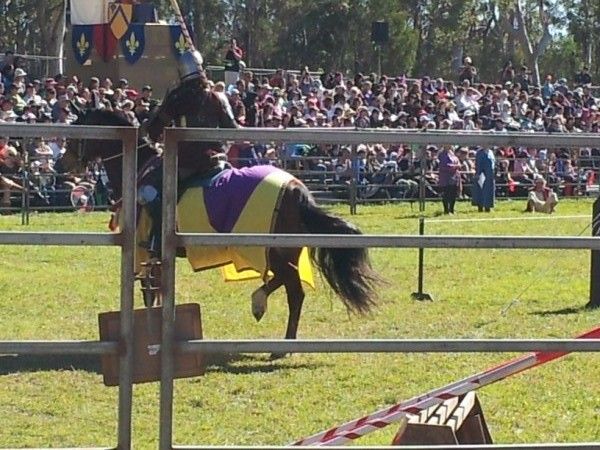 The Canadian entry:



And the lone male, from Victoria, Australia: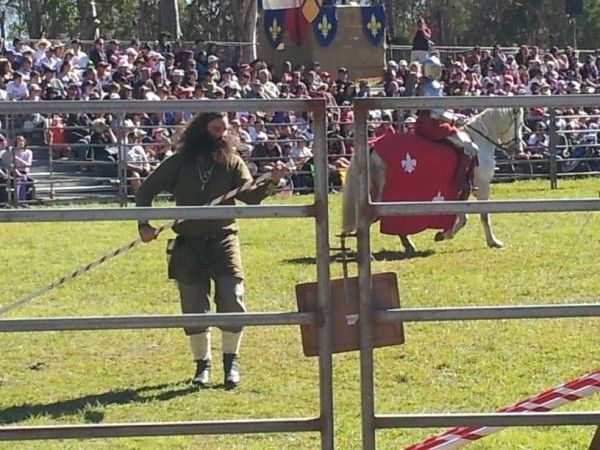 Apologies for the quality of the photos but my phone doesn't have a useful zoom.

This is the hand-tooled leather journal I bought:



Photo doesn't do it justice. Even the metal clasp has a Celtic design, it's just beautiful.

After we left the festival we continued north to Bribie Island. On one side of the island there's no surf at all, being protected by the mainland, while the other side is exposed to the sea and has a bit of a surf running Bought ice creams and walked along the beach, collecting shells, then back to the bridge across to the mainland.




The calm side, where a number of yachts were anchored, with the bridge to the mainland in the background.

Awkward moment of the day - being in the queue for coffee right behind the guy I was seeing last year, and ended up dumping with the injunction "please don't ever contact me again". Awkward much? My first impulse was to run away (brave Sir Robin!) but I decided to act like a grown-up and stayed in the queue. Not sure if he noticed me or not, although he did pull his lady friend in closer to him so perhaps he DID see me.... *g* Still, awkwardsauce. Although I'm glad to think he's happy.